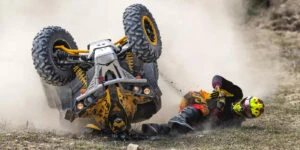 Understanding ATV Accident Personal Injury Claims and Negligence
ATVs, or all-terrain vehicles, provide thrill and excitement for riders, but accidents can lead to serious injuries and damages. If you've been injured in an ATV accident, you may have the right to seek compensation through a personal injury claim. Understanding the concept of negligence and its role in ATV accidents is crucial in determining liability and pursuing a successful claim.
For a free legal consultation with a lawyer serving Tacoma, call 206-558-5555
Common Scenarios of Negligence in ATV Accidents
Negligence is a key legal concept when it comes to determining fault in ATV accidents. A person or entity may be considered negligent if they fail to uphold a reasonable duty of care towards others. Here are some scenarios in which another party might be found guilty of negligence in an ATV accident:
Faulty ATV Maintenance
If an ATV owner invites you to ride their vehicle, but the accident occurs due to faulty brakes or other mechanical issues, the owner may be considered negligent for not maintaining the ATV properly.
Negligent ATV Trail Maintenance
When riding on an official and approved ATV trail, accidents can happen if the trail is not properly maintained. In such cases, the entity responsible for maintaining the trail could be held liable for negligence.
Passenger Injuries
If an ATV owner invites you to ride as a passenger on their ATV, but you sustain injuries due to their reckless driving or negligence, you may have a valid claim against the owner.
Personal Injury Lawyer Near Me 206-558-5555
How The Jackman Law Firm Can Assist You
Navigating the complexities of an ATV accident claim can be overwhelming, especially when dealing with injuries and financial strain. The Jackman Law Firm is here to provide the expertise and support you need to pursue a successful case. Our experienced team can help you recover various types of compensation, including:
Lost Wages
If your ATV accident injuries lead to missed work days or impact your ability to earn income in the future, we will fight for the compensation you deserve for your lost wages.
Pain and Suffering
The physical and emotional pain from an ATV accident can be significant. We will work tirelessly to ensure you receive fair compensation for your pain and suffering.
Medical Expenses and Out-of-Pocket Costs
Mounting medical bills and unexpected expenses can be a heavy burden. Our firm will seek compensation for all medical costs and out-of-pocket expenses related to your injuries.
Loss of Consortium
In cases where an ATV accident results in a loss of companionship or intimacy with your spouse, we will fight for compensation for the loss of consortium.
Click to contact our Tacoma Personal Injury Lawyers today
The Importance of Legal Representation
Dealing with insurance companies and navigating the legal process on your own can be challenging, and it's unlikely that the ATV company's insurance will offer a fair settlement immediately. Having an experienced and dedicated ATV injury lawyer on your side can significantly increase your chances of obtaining the compensation you deserve.
Complete a Free Case Evaluation form now
Contact The Jackman Law Firm for a Free Consultation
If you or a loved one has been injured in an ATV accident, don't hesitate to reach out to The Jackman Law Firm for a free consultation at 425-532-5441. Our team will review the details of your case, advise you on your rights, and guide you through the legal process. Remember, we work on a contingency fee basis, so you don't have to worry about upfront fees. Let us fight for your rights and help you recover the compensation you need to move forward after your ATV accident.
Call or text 206-558-5555 or complete a Free Case Evaluation form