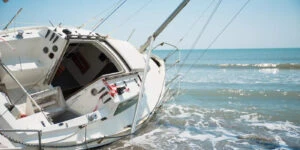 According to the US Coast Guard, there are over 4,000 boating accidents per year in the United States, resulting in a few thousand injuries, a few hundred deaths, and upwards of $50 million in property damage. No one wants to get hurt, let alone die, when they board a boat. If you're reading this you aren't dead, so that's a very good start! However, if you have been injured in a boating accident you may have recourse to sue for damages.
The key distinction that must be made in order to build a personal injury liability case for a boating injury is negligence. In this case, negligence is defined as the failure of whoever was responsible for operating the boat to take necessary precaution measures, act with "reasonable care," and ensure the safety of the boat and its passengers.
THERE ARE TWO MAIN KINDS OF NEGLIGENCE IN BOATING ACCIDENT INJURIES:
Collision with Another Boat
When your boat collides with another boat, the fault of the accident will be attributed to one or both of the boat operators. In nearly every imaginable circumstance, colliding with another boat is an avoidable accident that is caused by negligence—in this case, failure to pay attention.
Failure to Maintain Adequate Safety Equipment
All boats are required by law to have specific safety equipment in case of accidents or mishaps. Life jackets, fire extinguishers, life rings, and flares are just a few of the items that can be used in an emergency situation to prevent undue injuries. Failure to have safety equipment on board can result in more serious injuries and complications following a boating accident or injury. Because boats are required to have safety items, any damage caused by not having these should be directly attributable to the boat operator.
For a free legal consultation with a lawyer serving Tacoma, call 206-558-5555
COMMON BOATING INJURIES
If you have been injured on a boat, you may be facing serious injuries. These injuries may include the following:
Broken bones
Fractures
Head injuries
Back injuries
Knee injuries
Death
These injuries rarely just heal on their own. Rather, they take the effort and coordination of a team of healthcare providers to get you back to health.
Call or text 206-558-5555 or complete a Free Case Evaluation form