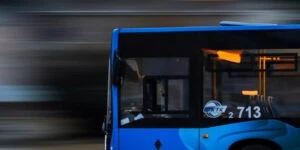 Filing Your Personal Injury Case after Bus Accident
If you are injured in a bus accident, you must be thinking if you are eligible to file a personal injury lawsuit. Bus accidents may lead to serious injuries, and it is significant to know your legal alternatives. In this article, we, one of the leading bus accident attorneys in Washington, will highlight what you should do for filing a personal injury lawsuit following a bus accident. We will also share information about the negligence, compensation, time limits for filing the lawsuit, responsibility, process to file the claim, and the kinds of damages that can be available. It is strongly advised, however, to consult an expert attorney to discuss your specific bus accident injury case for the optimal advice and proceeding.
Bus accidents can happen due to bus driver's negligence, bus companies cutting the corners, or lax county regulations. When a person or group of people is neglectful in causing the bus accident, they are accountable for the damages. It is imperative for injury sufferers and their families to chase the people responsible to help stop others from passing through similar accidents.
In a deadly bus accident, the family members sometimes end up with the loss of a loved one. However, an unfair death lawsuit will let the family seek compensation for their loss and hold the offenders responsible for their actions. This can contain an award for memorial expenses, loss of monetary support, and loss of emotional support.
For a free legal consultation, call 206-558-5555
Responsible Entity causing the accident
The person or the group of people responsible for causing the bus accident may base on the kind of bus accident and cause of the accident. In the personal injury lawsuit, those responsible are termed as "defendants," by the injury victim (called the plaintiff). In bus accidents, usually, the defendants can include:
Bus driver,
Bus driver supervisor
Tour bus operator
School bus operator
Charter bus operator
Other vehicle drivers
Bus maintenance company
City, state, or county agency
Bus owner
Bus stop property owner
Bus manufacturer
Bus part manufacturer
In certain cases, there might be multiple defendants sharing the responsibility for causing the bus accident. The injury victim might even have some fault for the accident but they may still be able to claim the damages. Under the "comparative fault" law, the plaintiff may recover the damages, even if he or she is sharing a certain degree of fault in causing that accident. However, the damages become lesser based on the share of fault of the plaintiff.
In most of the bus accident personal injury claims, the plaintiff can claim damages by proving the defendant's negligence that resulted in an accident. The fundamentals of negligence are:
The defendant owed a plaintiff a duty of care
The defendant broke their duty of care
The defendant's violation was a considerable factor to cause the plaintiff's injuries.
If the plaintiff proves that the defendant was negligent, the defendant might be held responsible for resulting in the accident and must pay for the plaintiff's damages.
The common injuries resulting in a bus accident
Common bus accident injuries are usually more complicated than other ordinary types of vehicle accident injuries. In-car or truck accidents, several safety features might protect the people involved, including:
Airbags
Seat belts
Bucket seats
Rollover protection
Crumple zones
Unfortunately, the bus passengers do not have these safety protections available. Bus passengers are usually sitting facing forward, towards the rear, or sideways. Bus passengers can even be standing if the bus is crowded. This may cause several injuries that are exceptional to bus accidents.
In a bus accident, the bus passengers may be thrown around inside the bus and may hit other seats, bars, passengers, windows, or the floor. As a consequence, some of the most common bus accident injuries include:
Head injury
Neck injury
Back injury
Broken bones
Internal injuries
Burn injuries
Crushing injuries
Paralysis
Loss of a limb
Click to contact our personal injury lawyers today
After a bus accident – What to do?
If you are the victim of a bus accident, there are a few things that you must do to protect your rights. Following are some of the key seven things to do after you encounter a bus accident:
Call 911. Irrespective of whether you feel once you are injured, it is vital to call the police so that you can put an official record of the bus accident.
Look for medical attention. If you are injured in a bus accident, it is significant to seek medical attention on an immediate basis. Do not wait to check if your injuries will recover on their own; seek the medical attention as soon as possible.
Gather evidence. If you are in a position, gather some evidence from the bus accident scene. This consists of taking pictures of the accident spot, scene, and witness statements.
Wait for the insurance company. It is recommended not to talk to the bus service's insurance company before speaking with an attorney. The insurance company might try to get you to sign the release or make a statement that could weaken your case.
Keep track of the expenses. Keep track of all the money you are spending as a result of the bus accident. This comprises travel expenses, medical bills, and any other expenses concerning the accident.
Follow doctor's orders. If your doctor is advising you to take some time off from work or make changes in your daily lifestyle, make sure you follow their orders.
Contact an expert attorney. Bus accidents are usually wider in scale and more complicated than those other vehicle accidents, as mentioned before. Hence, it is important to contact an expert and reliable attorney as soon as possible once you encounter a bus accident. An attorney can help a great deal to protect your rights and decide if you can file for the damages.
Complete a Free Case Evaluation form now
Common Bus Accidents
The most common bus accident company we see is against Greyhound since they are one of the biggest bus companies in the country. But there are also other kinds of buses, which include:
· School buses
· Tour buses
· Party buses
· Buses to transport the elderly
Regardless of the kind of bus that hits you, you have the right to bring a claim against the company.
When should you file a personal injury lawsuit?
If you are injured in a bus accident, it is essential to understand when to file your personal injury lawsuit. You can file such claims within three years from the date of an accident.
Were your child or spouse killed in a bus accident? Here is what to do
In the worst circumstances, where either your spouse or child or both are killed in a bus accident, the deceased ones are not around to fight back to hold others accountable for their actions. However, the surviving family members have the right to file a wrongful death lawsuit to ensure those who are accountable for the accident get the judgment.
In a wrongful death lawsuit, the family members who might be awarded damages include:
Spouse
Domestic partner
Children
Grandchildren (if the children are deceased)
Anyone else who may receive the property of the decedent by Washington intestate succession laws.
The damages in a wrongful death claim are aimed to compensate the family members for their loss. This entails economic and non-economic damages, like:
Funeral costs
Burial expenses
Financial losses to a family from lost income or lost future earnings
Loss of companionship, loss of affection, or loss of support
The compensation in a bus accident lawsuit
No money can be enough to compensate the injured victim after the accident but compensatory damages are aimed to provide for the victim's economic and non-economic losses.
Economic damages usually entail the costs the victim will lose or must spend because of the accident, including wages and medical bills. Non-economic damages may entail harms that do not essentially have a fixed cost, like emotional harm or losing a limb. Compensatory damages in a bus accident lawsuit can include:
Emergency room treatment
Hospital bills
Medications and medical supplies
Physical therapy
In-home care
Lost income
Future lost earnings
Vehicle repair
Loss of consortium
Pain and suffering
Emotional pain
Loss of enjoyment
Court costs and fees.
Duration to Settle a Bus Accident Lawsuit
Most bus accidents are settled out of court; however, it usually takes enough time to reach an agreement or settlement. Settlement can take anywhere from a few months even to a couple of years. Factors that influence the settlement include the degree of your injuries and how long your treatment lasts, plus how many other people got injured in the bus accident.
If you are injured in a bus accident, it is imperative to speak with an expert attorney as soon as possible so you can start the process of filing your injury lawsuit. An experienced personal injury attorney like us can help not just to complete all the formalities but also ensure you get fair judgments under all circumstances.
Final Thoughts
Bus accident lawsuits are often too complicated. It is advised to get timely and sound legal advice about suing a common carrier in a bus accident case from a local personal injury attorney. We also offer free case evaluation and work hand in hand with you to ensure your case is processed and fought in the best possible way.
These cases are normally hard fought and will not settle easily. You really need to have an attorney who understands the law and knows how to fight back against the bus' insurance company. If you have questions or concerns, we offer free consultations to help you get through this. Remember that you may only have up to three years, depending on the age of the person involved, to receive money for your injuries.
Call or text 206-558-5555 or complete a Free Case Evaluation form