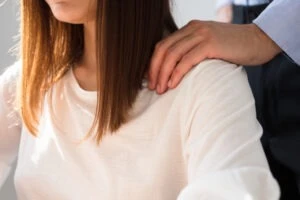 Seeking justice for sexual abuse through the legal process can be overwhelming for survivors, but you deserve justice and compensation to help you heal. If you are a survivor of sexual abuse, you do not handle your case alone, though. You have a right to hire a Washington personal injury lawyer to guide you through the legal process and take some of the stress off your shoulders.
At Jackman Law Firm, our Washington sex abuse lawyers can provide compassionate, client-focused legal representation. We want you to be able to hold an abuser accountable and access compensation that can help you afford medical care so that you can begin your healing journey.
Sex Abuse Can Take Many Different Forms
Sex abuse can involve different types of criminal behavior, not just rape. It may take time to realize that you are a survivor of sex abuse, as well. If you experienced any of the following forms of abuse, you likely have a case:
Inappropriate touching

Child molestation

Sexual battery

Forced sexual performances or other sexual acts

Statutory rape

Indecent exposure

Sexting

Sex trafficking

Incest

Lewdness

Coercion

Child pornography
Sexual abuse can also occur in many different institutes as an abuse of power. For example, a teacher can sexually abuse a student, and a religious leader can sexually abuse a practitioner.
Sexual abuse in institutions can be experienced by:
Children in daycare or summer camp

Elderly adults in nursing homes

Patients in hospitals and medical facilities

Employees
For a free legal consultation with a sexual abuse lawyer serving Washington, call 206-558-5555
Our Sex Abuse Attorneys Can Seek Compensation in a Claim or Lawsuit
Depending on your specific case, we may be able to file an insurance claim to seek compensation after sexual abuse in Washington. For example, if you experienced sex abuse in an institution like a school or church, you may be able to file a claim with its insurance provider. This would also allow you to hold the company or institution itself accountable for allowing the abuse to occur, such as through a cover-up. For example, our investigation may reveal that there were previous accusations and complaints that went unaddressed by management.
We can also file a personal injury lawsuit on your behalf and seek a court-awarded offer. We may even suggest beginning with legal action. It all depends on the specific circumstances of your individual case. We are not afraid to represent you in a trial to seek justice.
Washington Sexual Abuse Lawyer Near Me 206-558-5555
Compensation Can Help Washington Sex Abuse Survivors Recover
Sexual abuse can have devastating physical and emotional effects on a survivor, and these could also cause financial losses. For example, some survivors of sex abuse will experience depression and anxiety, which could affect their job.
We will seek compensation for a variety of losses, such as:
Medical treatment

Therapy and counseling

Lost wages

Reduced earning capacity

Pain and suffering

Post-traumatic stress disorder (PTSD)
We want you to be able to access the care you need to heal, so we will leave no stone unturned when accounting for your losses.
Click to contact our Washington Personal Injury Lawyers today
Our Washington Sex Abuse Lawyers Provide Compassionate and Confidential Services
We understand that sex abuse survivors need compassionate, confidential legal services, and this is what we offer at Jackman Law Firm. We will make it a point to hear your story in your own words so that we can determine the best course of action for you.
It takes courage to hold an abuser accountable, and we want to be your advocate and supporter along the way. We promise never to treat you like another case file on a desk. Instead, we will give your case the personalized attention it deserves.
We also handle sex abuse cases in the state of Washington on contingency. This means we will not charge you upfront fees to start working on your case. We only take a percentage of your potential compensation. If we do not secure compensation, we will not charge you a dime. This also gives you peace of mind, knowing we will put every effort and resource to work when seeking justice and compensation.
Complete a Free Case Evaluation form now
Healing from Sexual Abuse
Every survivor's healing process is unique, and you deserve support during yours. We can recommend doctors who can provide you with medical and psychological treatment so that you can begin your healing journey.
According to the Rape, Abuse & Incest National Network (RAINN), sexual abuse can lead to depression and post-traumatic stress disorder (PTSD). Some survivors have flashbacks that are as painful as the original experience of abuse. Through therapy and counseling, sex abuse survivors can take back control of their lives, but the process is not instant. You may require years of therapy, and that's okay. We are here to help you access the care you need to heal.
The Statute of Limitations for Sexual Abuse in Washington State
According to the Revised Code of Washington §4.16.340, you generally have three years to file a lawsuit for sexual abuse. The sooner you get started on your case, the better. Remember, it takes time to build a case, and you want to give yours the best chance possible.
We can help you meet the statute of limitations in the state of Washington so that you can seek justice and fair compensation.
Let Our Washington Sex Abuse Attorneys Help
You deserve justice and access to treatment that can help you heal after sex abuse in Washington state. At Jackman Law Firm, we can handle your case while you focus on your mental and physical health.
Call us today for your free, no-obligation consultation.
Call or text 206-558-5555 or complete a Free Case Evaluation form