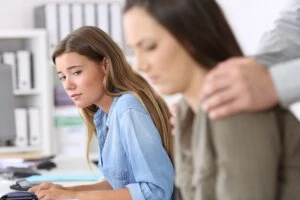 If you are a sexual abuse survivor in Denver, you may get justice through a civil case. This includes holding the responsible parties accountable and recovering fair compensation for your pain and suffering, expenses, and losses.
A sexual abuse lawyer from Jackman Law Firm can handle your case while you focus on healing and returning to your regular activities. You should not have to make additional sacrifices to hold the at-fault parties accountable.
You can learn more during a free case consultation. Our team will assess your case, determine your options, and explain the timeline that may apply. You can speak to our legal team confidentially today. Contact our Denver office now.
What Types of Damages Can a Sexual Abuse Lawyer in Denver, CO, Recover?
In sexual abuse cases, our Denver lawyers hold the perpetrator and any institutions or organizations that allowed the abuse to occur legally responsible for our client's expenses and losses. We identify, document, and value these cases before demanding a fair payout. We could seek money for damages that include:
Medical treatment for physical injuries and mental health care costs

Ongoing therapy and support costs

Income losses

Diminished earning capacity

Miscellaneous expenses with receipts

Emotional distress and other types of pain and suffering
At Jackman Law Firm, we understand how significantly enduring sexual abuse or surviving a sexual assault can affect your daily life. Going to work, enjoying your hobbies, and even managing your own well-being day to day can be difficult. We consider all your economic and non-economic costs when we value these cases.
We will not settle for less than we believe you deserve just to close a case. You can count on us to keep fighting until we believe justice is possible.
For a free legal consultation with a sexual abuse lawyer serving Denver, call 206-558-5555
Let Our Sexual Abuse Attorneys in Denver, CO, Handle Your Civil Case
Jackman Law Firm is a law firm worthy of your trust. We know how difficult it can be to trust anyone after you survived sexual abuse or another similar experience. However, our team will handle your case from start to finish and make the entire process easy for you. You can focus on your own mental and emotional health while we take care of everything else.
A Denver personal injury lawyer from our team can help you identify the liable parties, build a compelling case against them, and seek a fair payout. Throughout this process, you can expect to receive exceptional customer service from our team. We will go the extra mile for you, including being available 24/7/365 for our clients. Do you have a question? We return client's phone calls and emails the same day.
Our attorneys have a contingency policy. Their pay depends entirely on the money they can recover for you in your case. We do not ask our clients to pay any upfront fees. This means you can afford to hire our team to handle your case regardless of your current financial situation.
Denver Sexual AbuseLawyer Near Me 206-558-5555
Our Denver Sexual Abuse Attorneys Know How Colorado Law Works
Thanks to the Child Sexual Abuse Accountability Act, our attorneys can help adults who were childhood survivors of sexual assault pursue claims against the organizations or institutions responsible for their abuse. This is all too common. Someone associated with a youth program or activity abuses underage survivors enrolled in the program.
Our attorneys can build cases against schools, churches, clubs, sports leagues, and other organizations where authority figures harmed participants. This is possible if the organization knew or should have been aware of the misconduct.
Our Denver lawyers know how to build strong cases and show what happened. We can demonstrate why we believe the organization should have been well aware of the abuse occurring. This is one of the most common foundations for sexual abuse lawsuits today.
What If Your Child Is a Survivor But Is Still Underage?
Our sexual abuse attorneys can help you understand your child's rights, the timeline of these cases, and when you should take legal action if your child is a sexual abuse survivor. There are additional concerns with these cases, such as protecting your child's privacy and ensuring unscrupulous adults do not try to harm them further. Contact our attorneys today to learn more.
What If You Were Abused as an Adult?
We represent sexual assault and abuse survivors of all ages. Many perpetrators will take advantage of young women and those who are vulnerable for other reasons. When this occurs, you may be able to hold the at-fault parties responsible, too. Our attorneys can handle your case and help you get justice.
Click to contact our Denver Personal Injury Lawyers today
When do You Need to Hire a Denver Sexual Abuse Lawyer?
We encourage you to connect with our team as soon as possible. Navigating these cases can be extremely stressful and painful for survivors. We make the process as easy as possible by ensuring our clients know what to expect and handling everything for them.
For abuse that occurs today, Colorado does not have a statute of limitations for criminal or civil sexual abuse cases when the survivor is underage. However, the deadlines are complex for some abuse that occurred in the past.
Some adult survivors may not be eligible to pursue a case, or there might be a deadline for these cases. The best way to find out is to allow our team to review your case and explain your options.
Complete a Free Case Evaluation form
Discuss Your Denver Sexual Abuse Case With Our Legal Team Today for Free
Jackman Law Firm provides free case consultations for survivors of sexual abuse in Denver. This includes survivors who endured abuse as adults or children regardless of their current age. Our free consultations are confidential. You can speak to a team member and learn about your options without anyone else knowing unless you tell them.
Contact us to get started now. Acting quickly may be important, depending on the circumstances and when the abuse occurred.
Call or text 206-558-5555 or complete a Free Case Evaluation form