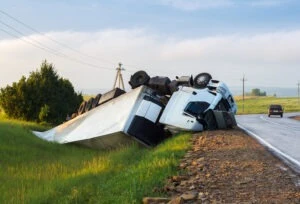 The trucking industry plays an important role in the economy, but it can be difficult to seek compensation after an accident with a delivery truck. Understanding these accidents could help you better approach your truck accident claim and navigate the process for compensation.
You can also hire a Tacoma Truck Accident Lawyer to help you seek compensation. They can handle your case while you rest and recover from your injuries.
What Qualifies as a Delivery Truck?
Whether we are discussing Amazon, FedEx, DHL, UPS, or the U.S. Postal Service, each of these organizations has fleets of delivery trucks classified as commercial vehicles. Most have various-sized vehicles, from the one that visits your neighborhood to a fully loaded tractor-trailer truck that moves packages between hubs hundreds of miles apart.
Generally, all of these vehicles are significantly larger than your average passenger car. A large truck could weigh more than 10,000 pounds, according to the National Highway Traffic Safety Administration (NHTSA). Those massive 18-wheelers full of cargo can weigh up to 80,000 pounds, according to the Federal Highway Administration (FHWA). You can imagine the severity of injuries a collision with these trucks can cause for passenger vehicle occupants.
Because of this, a collision with these large trucks can cause serious injuries to the occupants of passenger cars. This is especially true at elevated speeds when the momentum of the truck is significant because of its heavy weight.
Truck Accidents Are Common Throughout Washington State
While the Washington State Department of Transportation (WSDOT) does not track delivery truck accidents specifically, we know how common large commercial truck accidents and injuries are.
In 2022, WSDOT reported 6,283 truck accidents statewide. Of those, the injuries and severity included:
Fatal accident injuries: 75

Suspected serious injuries: 155

Suspected minor injuries: 519

Possible injuries: 741
The greater Tacoma area reported 722 truck accidents in 2022. The injury reports include:
Fatal accident injuries: 8

Suspected serious injuries: 14

Suspected minor injuries: 43

Possible injuries: 85
As you can see, trucking accidents occur numerous times a day, both statewide and in Pierce County. Many of these heavy truck accidents likely involve delivery and cargo trucks carrying packages and orders for consumers, whether delivering them to homes directly or moving them between hubs. This type of truck commonly travels around Tacoma and throughout Washington state.
Common Causes of Delivery Truck Crashes
A Washington State personal injury lawyer can help get to the bottom of what led to your truck crash. Driver error or failure on the part of the trucking company are common examples of negligence that can lead to a truck collision.
Negligent Truck Drivers
Like other types of auto accidents, most truck collisions occur because of negligent drivers. When a delivery driver violates a traffic law, and this is the cause of a crash, the truck driver is said to be at fault. Some ways delivery drivers might cause an accident include:
Failing to yield when turning

Running red lights or stop signs

Following too closely

Failing to clear an adjacent lane before merging
Sometimes, drivers also make poor decisions that can contribute to these crashes, including drunk, drugged, drowsy, or distracted driving.
When we build a case for a client, we do not pursue a case against the individual delivery driver. Instead, we seek compensation from their employer. We ask the company to pay out from their corporate liability insurance policy or sue the company directly in civil court.
Issues With the Truck
Poor truck maintenance, defective parts, and other issues with the truck can cause a crash. For example, defective brakes could prevent a fully loaded delivery truck from stopping at a red light. Failure to check and maintain tires could cause significant issues, leading to an interstate collision.
Who is liable for these issues will depend greatly on what occurred and the proximate cause of the crash. The liable parties could include:
Defective parts manufacturers

The truck's owner

The garage tasked with truck maintenance

The tire company
Cargo Shifts
When cargo is loaded improperly, shifts can occur. The weight must be distributed evenly so that the trailer does not experience cargo shifts and roll over or otherwise become difficult to control. Improperly loaded cargo can also cause lost-load accidents.
When a cargo shift occurs, the cargo manufacturer, the company that loaded the cargo, or the driver's employer may be liable. Your attorney will need to learn more about the cause of the crash and the circumstances that led to it before establishing liability in the case.
Your Rights After a Washington State Delivery Truck Accident
If you were hurt in a delivery truck crash, a Washington truck accident attorney can explain your rights and answer any questions you may have. With evidence to show the truck driver caused your crash, you may be able to hold the delivery company legally responsible for your expenses and losses. Alternatively, we can build a case against other liable parties based on the case facts.
We can often settle cases through negotiations with the company's liability insurance carrier. When necessary, we will sue the company or another liable party and ask the jury to award fair compensation.
Under RCW 4.16.080, crash victims usually have up to three years to sue the liable party. We will ensure our clients meet this deadline to protect their right to sue and recover monetary damages. Missing this deadline could endanger your right to hold the liable party accountable.
Discuss Your Delivery Truck Accident With Our Legal Team Today
Jackman Law Firm is a law firm worthy of your trust. When you hire our team, you can expect exceptional customer service and easy-to-reach staff available 24/7/365. We provide free initial case consultations and have a no-win-no-fee policy.
Contact us today to get started with your free case assessment.