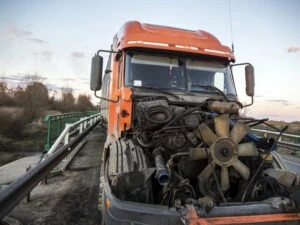 In most cases, our attorneys sue a trucking company or another corporation following a commercial vehicle accident case. This is true even when the truck driver's negligence caused the collision. This is possible thanks to a legal principle known as respondent superior.
Our Tacoma truck accident attorneys from Jackman Law Firm can offer more detailed answers specific to your truck collision case during a free initial consultation.
We Often Sue the Company for Damages After a Truck Accident
In most auto accidents, a careless or reckless driver causes the crash and is the liable party. In these collision cases, we seek a payout from the driver and their insurance carrier. There is usually no additional liable party. Commercial vehicle accidents work differently.
When our truck accident lawyer seeks to recover damages for the client, we do not usually pursue compensation directly from the truck's driver, though. Instead, we demand compensation based on their employer's corporate liability insurance policy or sue the trucking company in civil court.
This is because, under respondeat superior, a company is legally responsible for the actions of their workers when those workers are on the job and performing tasks for the employer. In the case of a truck crash:
The worker is behind the wheel of the truck

The truck driver is managing a task essential to their job, which is driving

The company benefits from the trucker driving the truck because it is a necessary part of its supply and delivery chain
To this end, we usually seek fair compensation for our client by holding the trucking company vicariously liable for their driver's careless or reckless actions behind the wheel.
Sometimes, a trucking company could be directly liable for a crash, too. This could occur if there is an issue with truck maintenance, they pressured the driver to violate hours of service laws, they hired or kept the driver on staff despite safety concerns, and for many other reasons.
We can identify how the trucking company is liable as part of our investigation into what occurred and who is liable. We must identify all potentially liable parties before we can file an insurance claim or lawsuit in any collision case.
How Can I Hold the Truck Company Liable for My Injuries?
When you hire a personal injury lawyer to handle a truck collision case, the law firm will review your options with you and discuss the case plan. This usually includes many steps, such as:
Investigating what happened

Gathering and analyzing available evidence

Identifying the liable party or parties

Valuing the damages in the case

Demanding fair compensation from the insurance carrier

Negotiating for an acceptable payout

Suing the liable party when necessary
Despite their complexity, most truck accident cases settle without going to trial. The trucking company agrees to pay a fair settlement through their insurance carrier, and our client signs an agreement stating they will not pursue further damages in the case. The insurer pays out, and our client can pay for their care and rehabilitation.
When we do need to sue, we will. We can often still settle these cases out of court after filing a lawsuit. However, we will take the case to trial when needed.
What Damages Can I Recover By Holding a Trucking Company Liable for My Injuries?
The same types of damages are available regardless of who we hold legally liable for your expenses and losses. However, truck accident injuries are often serious or catastrophic. This could mean extensive treatment costs and ongoing care and support expenses in the future. In other words, these injuries are expensive.
Insurance policies have limits. The insured party is generally only covered up to the value of the policy and will not agree to pay out beyond that amount. The policies purchased by individuals are naturally much smaller than those carried by large corporations in most cases. This is why we sue the trucking company and pursue compensation from their policy.
Some common types of damages recoverable in these cases include:
Medical bills, present and future

Ongoing and future care and support costs

Income losses

Diminished earning ability for lasting injuries

Property damages

Miscellaneous expenses

Pain and suffering damages
When Should I Contact an Accident Attorney About My Crash Case Against the Trucking Company?
Under RCW 4.16.080, truck accident victims usually have up to three years to sue the trucking company in Washington State. However, there are many other reasons why you want to contact an attorney to discuss your legal options much sooner.
We advise making the call as soon as your injuries are stable and you are able. If your loved one suffered catastrophic injuries and may not be able to talk to a lawyer for several weeks or months, you can call on their behalf. Enlisting legal help in a truck accident case quickly is important for several reasons:
The insurance company may try to offer a lowball payout before you understand your future care needs

Your attorney will protect your right to fair compensation

The law firm will manage all aspects of the legal case, so you do not have to worry about it

The trucking company has a lot of evidence to support your claim, so your lawyer needs to act quickly to preserve it

Some evidence disappears quickly if not preserved
Discuss Your Truck Accident With Our Team at No Cost to You
At Jackman Law Firm, we provide free case consultations for truck accident victims and their families within our service area. We aim to be a firm worthy of your trust and are here to help when you need us. We have a no-fee unless we win policy. You can count on your lawyer to be available to you, including returning phone calls and emails the same day.
If you or a loved one suffered injuries in a Washington State truck accident, contact us online or over the phone for your free case assessment with our team.