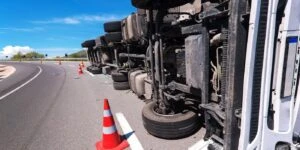 When accidents with semi-trucks or 18-wheelers occur, the primary reason is the driver is simply driving too fast. Another term for this is a semi-truck that has driven too fast for conditions. If you are struck by a semi-truck or 18-wheeler truck who is traveling too fast for the road, then you may have a claim against the owner of the 18-wheeler or truck.
COMMON REASONS FOR TRUCK ACCIDENTS WHEN THE DRIVER IS DRIVING TOO FAST FOR CONDITIONS:
Driver inexperience
Driver inattention
Driver distraction
A driver who tired or fatigued
A driver who is under the influence
For a free legal consultation, call 206-558-5555
In any of the above-mentioned examples, the fault for your accident lies both with the trucking company who employed the driver and the driver himself or herself. The trucking company has a legal duty to only employ competent, experienced drivers on the roads, especially on the highways and interstates of the country, where the 18-wheeler can be traveling upwards of 70 miles per hour.
If you have been injured by an 18-wheeler who was speeding too fast for conditions, you may have a valid claim or lawsuit to bring against the trucking company. Feel free to call The Jackman Law Firm to discuss your case.
Call or text 206-558-5555 or complete a Free Case Evaluation form