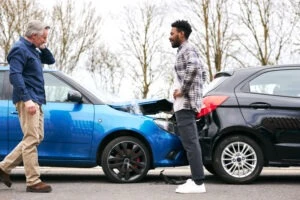 Few things can derail your life as quickly as a serious car accident. One minute you're driving to work or running errands like any other day. The next, your vehicle is mangled, you're injured, and your entire world is turned upside down. Medical bills pile up. Your car sits useless in a tow yard. Time off work takes a financial toll. You can hire a car accident lawyer after your accident in Edmonds to help, though.
At Jackman Law Firm, we've spent decades helping local crash victims get back on their feet after a collision. Our Edmonds personal injury lawyers know how to investigate accidents, prove fault, accurately calculate damages, and fight for fair compensation for clients. We've recovered millions for injury victims in Edmonds and surrounding communities. Whether you were hurt as a driver, passenger, motorcyclist, or pedestrian, we have what it takes to get you the money you need to cover expenses, replace lost income, and compensate for your suffering.
How Much Compensation Can I Receive After an Edmonds Car Accident?
If you've been injured in a crash caused by another driver's negligence, you may be owed significant financial compensation. But how much can you realistically expect to recover? Cases vary based on the severity of injuries, extent of vehicle/property damage, insurance coverage limits, and level of available evidence.
However, an Edmonds car accident lawyer can help you seek money damages for:
Medical expenses:

This includes hospital bills, urgent care visits, medications, surgery, physical therapy, assistive devices, and more. Severe crashes often lead to a lifetime of expensive medical care.

Lost income:

If injuries force you to miss work during recovery, those lost wages are recoverable. We can document income loss down to the hour. For serious disabilities, total loss of future earnings is also available.

Property damage:

You can pursue compensation for vehicle repair or replacement, damage to personal items, etc. We work with auto valuation experts and other professionals to accurately assess and document these costs.

Pain and suffering:

Compensation for physical pain, emotional distress, trauma, diminished quality of life, and other intangible damages may also apply.

Wrongful death:

You can seek awards for loss of companionship, a loved one's income, and funeral expenses.
While every case is different, car accident settlements and verdicts commonly reach well into six or even seven figures when injuries are severe. With our lawyers fighting for you, you can seek full and fair recompense. Don't settle for less than you deserve.
For a free legal consultation with a car accident lawyer serving Edmonds, call 206-558-5555
How an Edmonds Car Accident Lawyer Can Help You Recover Damages
After a crash, the bills can start piling up quickly. There's the ambulance ride, ER visit, damage to your car, and more. If your injuries keep you from working, the financial stress compounds. We know — we've helped hundreds of clients in similar situations.
An Edmonds car accident lawyer protects your rights and works to secure full compensation for all your accident-related costs. We'll document every recoverable damage you've faced due to someone else's negligence. With an attorney in your corner, you can focus on getting better while we handle the legal fight.
Edmonds Car AccidentLawyer Near Me 206-558-5555
Common Causes of Auto Accidents in Edmonds, WA
Negligence can take many forms on the road, including:
Speeding:

Higher speeds mean more forceful collisions and less reaction time. Even going just 10 mph over the limit increases crash risk.

Distracted Driving:

Eyes off the road for just a few seconds can end in tragedy on Edmonds streets. Texting while driving is especially dangerous. If a distracted driver hits you, an attorney can obtain phone records, witness statements, and other evidence to prove fault. You focus on healing, and we'll handle the distracted driver.

Drunk Driving:

Impaired drivers cause hundreds of injuries and deaths in our state yearly. Alcohol impairment slows reaction times and impairs judgment, making drivers unable to respond appropriately to avoid a crash. If a drunk driver injured you, you may have legal options against both them and the bars that over-served them.

Poor Conditions:

Rain, fog, snow, and dark hours make driving more hazardous for all. Watch your speed in bad weather.
Other forms of negligence can also result in violations of traffic laws and contribute to car accidents.
Click to contact our Edmonds Personal Injury Lawyers today
Why Hire Jackman Law Firm For Your Edmonds Car Accident Claim
We understand that you have your choice of personal injury law firm. Let us give you some examples of what sets Jackman Law Firm apart from the rest.
Here's what we bring to the table:
Decades litigating car wrecks in Edmonds and surrounding cities

Personalized attention—you're more than just a case number

No out-of-pocket costs thanks to contingency-fee billing
With us as your Edmonds car accident lawyer, you can be confident we'll fight to get you every penny you deserve. During your free consultation, we can explain what to do after a car accident so that you can support your case, as well. For example, you will want to begin medical treatment for your accident injuries as soon as possible.
Your time to act is also important. Under RCW § 4.16.080, you generally have three years to file a lawsuit against the liable party. As your legal representation, we can ensure your documents are filed with the courts but only if you contact us before that statutory deadline expires.
Complete a Free Case Evaluation form
Work With an Edmonds Car Accident Lawyer Today
If a negligent driver injured you or someone you love, take action now. Call Jackman Law Firm for a free, no-obligation case review, or contact us online to get started. With an Edmonds car accident lawyer on your team, you can focus on healing while we work hard to get you fair compensation. Don't go it alone; let our lawyers fight for the justice you deserve.
Call or text 206-558-5555 or complete a Free Case Evaluation form