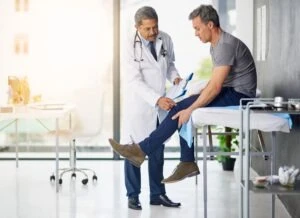 If you were hurt at work and cannot immediately return to your job, you can apply for workers' compensation benefits with guidance from our Washington personal injury lawyer. We will review your case at no cost or obligation and explain how the state of Washington advocates for injured employees. On your own, meeting the demands of the application process can be challenging.
At Jackman Law Firm, we are passionate about supporting injured workers. We will help you understand and collect the information your workers' comp application requires. Our Washington work injury lawyer is on your side and will support you until your case is resolved. We will also help you file an effective appeal if your initial application was denied.
Financial Compensation Is Available After a Work Injury in Washington
The state of Washington provides injured workers with full or partial compensation for work injuries that prevent them from working. If you were hurt at work, you can generally recover:
Temporary disability benefits if you cannot work at all or cannot work at your usual capacity for a minimum of four days. You can typically expect to receive between 60% and 75% of your pre-injury wages.

Permanent disability benefits for injuries, including limb loss, paralysis, complete vision loss, and other injuries that prevent you from working at all.
Additional benefits can include vocational training to prepare you for other types of work you can do and death benefits if a loved one succumbed to a work injury. Our law firm will explain the specific type of compensation available to you or your family.
Medical Care Is Available After a Work Injury in Washington State
If you are approved for workers' comp benefits, you will receive all medical care required to treat your injuries. Adhere to your treatment plan until your healthcare provider determines that you have reached maximum medical improvement.
Covered medical expenses can include:
Hospital stays

Surgical procedures

Prescription medication

Rehabilitation or therapy

Assistive medical devices

Eyeglasses and hearing aids

Treatment-related travel costs
You will not incur copays or other fees for any of the work injury-related medical care you need. We will compile your medical records and other evidence relevant to your injury while preparing your claim.
For a free legal consultation with a work injury lawyer serving Washington, call 206-558-5555
How to Qualify for Workers' Compensation Benefits After a Work Injury in Washington
Before you apply for workers' compensation, our work injury lawyer serving injured employees in Washington can help you understand the qualifying criteria. You are eligible for benefits if:
Your employer is required to carry workers' comp insurance

You were injured in the scope of your employment

You cannot work at all due to your workplace injury

You can only work in a limited capacity due to your injury
Our work injury team at Jackman Law Firm will review the details of the accident that led to your injury. We will also examine the policies of the state of Washington to determine whether your employer carries the required insurance.
Your Work Injury Benefits Application Has a Time Limit in Washington State
In general, you have a year from the date of your injury to file a work injury claim. We understand that you want to spend your time and energy getting better. You should, however, notify your employer of your injury as soon as possible, though. From there, our law firm can help you manage the details of your claim.
In addition, the sooner you contact our work injury attorney, the more time we have to investigate your case. Early intervention also gives us the opportunity to collect medical and other evidence that supports your right to benefits.
Information We Collect to Support Your Washington Work Injury Claim
Washington State Department of Labor and Industries requires a plethora of information when filing a workers' comp claim. Our legal team will explain their requirements and help you track and gather the following information:
The date, time, and location of the accident that caused your injury

The names and contact details of coworkers of other witnesses

The name and contact details of your employer

Details about your work-related income

Names and birth dates of your children or other dependents
If you have already received emergency or other medical care, they require the names and contact information of every healthcare professional and provider where you received treatment.
Washington Work InjuryLawyer Near Me 206-558-5555
How Our Work Injury Attorney Represents Injured Employees in Washington
At Jackman Law Firm, our mission is to get you justice and compensation following your work injury. To support you in every aspect of your worker injury claim, we will:
Return phone calls and emails the same day

Explain each step of the application process

Review your application for accuracy

Appeal a denied application on your behalf
Honesty, integrity, and excellence are our core values. Our no fee unless we win policy means our representation is risk-free. We provide exceptional customer service and are available when you need us—24/7/365.
How Previous Injury Clients Describe Their Experience With Jackman Law Firm
One of our representation goals is to meet the unique needs of every client with responsive, communicative service. Previous clients say:
Ray L.: Chris is the absolute best attorney you could ever hope for! Ethical, understanding, honest, responsive, and serves his clients with efficient results. We appreciate his knowledge and integrity. Thank you, Chris!

Brittany Parkhill: Chris is great. He was very professional, always kept me in the loop on what was going on and made sure to explain everything, so I knew exactly what was happening … Chris made sure I got the very best outcome … I definitely would recommend him.
You can read additional reviews on our testimonials page from clients who recommend our legal service and support.
Click to contact our Washington Personal Injury Lawyers today
Call Today for Your Free Work Injury Evaluation
If you cannot work at all due to an on-the-job injury, our Washington work injury lawyer will help you file a complete and accurate application for workers' comp benefits. Contact one of our team members at Jackman Law Firm to get your free evaluation today.
Call or text 206-558-5555 or complete a Free Case Evaluation form